Murphy & Anderson Law Firm - Experienced Attorneys in Jacksonville, FL
Murphy & Anderson | Firm Overview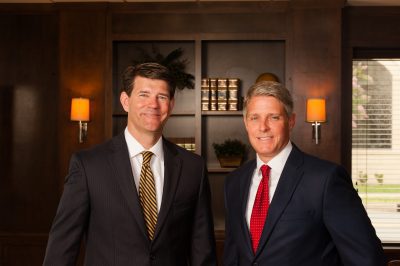 Since founding Murphy & Anderson, Niels P. Murphy, Geddes D. Anderson, Jr., and their team of top-rated lawyers and legal professionals have delivered the highest-quality legal representation. The firm has extensive experience handling a variety of complex tort and business litigation matters in Florida and across the United States. Murphy & Anderson routinely represents clients nationwide in securities litigation and arbitration, broker-dealer and investment advisory regulatory and compliance matters, and product liability claims.
Murphy & Anderson is consistently recognized as a top litigation firm by nationwide rating services. The firm is AV Rated by Martindale Hubbell and one of the elite few selected annually by U.S. News – Best Lawyers in America and Best Law Firms in America. Our attorneys are consistently rated among the top lawyers in the United States and have been recognized by Super Lawyers, Florida Trend's Legal Elite, Jacksonville Magazine's Top Lawyers, and the American Registry of Lawyers & Corporate Counsel's Top Lawyers.
Mr. Murphy and Mr. Anderson are Board Certified lawyers and designated by The Florida Bar as "Experts in Business Litigation." Board Certification is the highest level of recognition for specialization by The Florida Bar and requires significant trial experience and a rigorous qualifying exam. Both are also included in the Top 100 Lawyers in Florida, which is a prestigious designation, given that there are currently over 100,000 licensed lawyers in Florida.
Murphy & Anderson has an established reputation in Jacksonville, Florida, and nationwide as superior litigators that efficiently solve problems and aggressively advocate for clients. Whether representing individuals, small businesses, or Fortune 500 companies, we are dedicated to reaching the most successful resolution possible. We recognize when settlement is appropriate and when proceeding to trial is the best strategy. Unlike many firms, our team of litigators consistently try cases before juries, judges, and arbitrators, and we have a proven track record of excellent results.
Personal Service from Our Attorneys
We pride ourselves on offering small-firm service to all of our clients. Small-firm service means direct access to our attorneys, effective representation at reasonable rates, and practical advice and answers to client questions. We customize our legal strategies to suit the needs of our clients because we recognize that each one is different. We frequently work with clients to develop alternative fee arrangements and flat fees to manage legal costs. Furthermore, our accessibility, expertise, and ability to react quickly to client needs allow us to respond to immediate needs and provide practical, value-added guidance to pressing legal concerns.
Our office is located in historic San Marco of Jacksonville, Florida, with convenient free parking and easy access to the federal and State courthouses. If you need the best lawyers in Jacksonville or a Jacksonville litigation attorney, contact Murphy & Anderson for a free consultation.